>> Friday, August 13, 2010
I finally found the picture to brighten up our little home and designed it in such a way that makes me fall in love over and over again with the same man. heheh..
I call it
My Classic Love.
Most people would be putting big frame pictures of their wedding to decorate their homes, living room or bedroom. But not the dreamChaser. I find it more relaxing and realistic by looking at pictures of ourselves in normal yet meaningful modes. Weird combination? :) Weird taste? Welcome to dreamChaser's world.
Perhaps the picture tells it all.
Our Classic Love.
..just wanted our picture with a transparent background and less nationalisme ;)
_____________________________________________________
OKAY...Its TiME to share with YoU the Good news.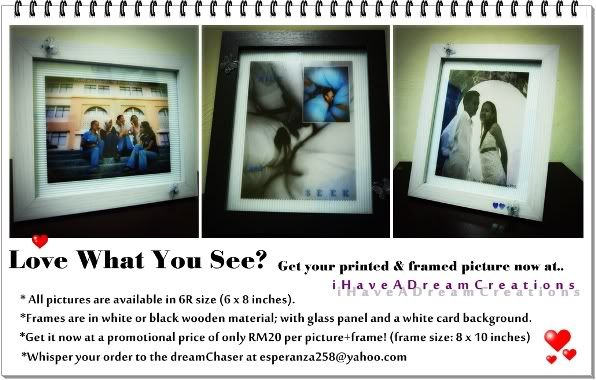 It's a special offer from the heart of
iHaveADream Creations.
Thank you so much for giving me a
chance
to share my passion with you by allowing me the
chance
to transform your pictures into happiness and joy.
Your great response have made my day and i guess the next baby step to take is to offer you a
chance
to own your picture in print and framed, in a very affordable way.
Another reason for me to initiate this is to realize my dream in helping the prevention of animal cruelty out there, via the
SPCA KK
( Society for the Prevention of Cruelty to Animals, Kota Kinabalu).
i H a v e A D r e a m
care.
Together we can make this world a better place for them.
HOW?
A
ten percent
of all transactions made with
iHaveADream Creation
s will be donated to the SPCA KK.
Thus, everytime you make a purchase, you are helping the organization to continue their mission in preventing animal cruelty in Sabah.
Last note: We might not be able to do great things, but we can do small things in a great way.
Cheers.